Google maps for the iPhone has had nothing but success dating all the way back to the decision Apple took with regards to Google Maps on the iOS 6 which we will call interesting and leave there. Some 10 million downloads of the Google Maps app happened in the first 48 hours and Google Maps never looked back.
Since then it's become pretty clear that Google Maps was clearly in the interest of users and fast forward to the new iPhone 11 Pro Max and in my opinion Google Maps is still as dominant now as it was then even if Apple Maps is getting better, but don't take my word for it, here's why.
1. Street view on Google Maps
Street View has literally revolutionised the way people do business, plan their routes, and go about life in general. Many businesses that work on property make an assessment of costs using a combination of Street View and pictures, this save huge amounts of time and money for the end user. Consider you're engaging a business and you need a quick quote to replace your windows or doors to negotiate for the purchase of a property. Simply hand the postcode over and let the quotes roll in. Street View is literally that powerful and the zoom allows enough detail for many transactions like this. It saves businesses hours on end.
2. Google introduced 'stops' recently
Have you ever been on your way to a destination and needed to fuel up unexpectedly in an area you don't know? OK, well if you drive, sorry for the rhetorical question. You can now search the Map for nearby petrol stations to get you out of a spot of bother. It doesn't stop there though, coffee shops, or anything you need is a the end of a search and will pop into view. Not only that, it'll give you an idea of how much time the pit stop will cost you too. Google are light years ahead of the curve and it's so dangerous it may be harming us as I'll explain on.
3. They've even added the weather when you search an area
Is there anything Google Maps have not covered? Only the other day I noticed you get a quick glimpse of the weather when search an area. This is really handy of course and helps us prepare accordingly. This is even more useful for those on foot, bike, or public transport.
4. It's not just for cars
Google Maps serves those on foot, bike, and using public transport hooking us up and showing us all the best methods to get from A to B. They'll calculate the quickest and most efficient travel methods for you. They've even thrown Uber into the mix which is great because I trust Googles time calculations over Uber.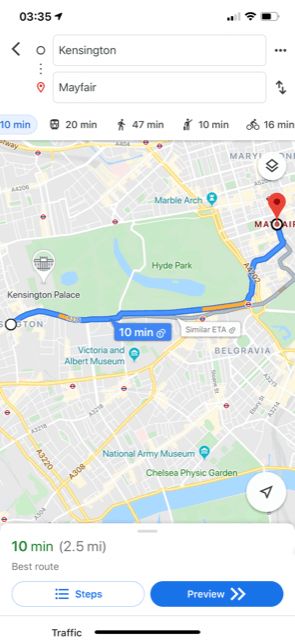 5. Is Google Maps so good we stop exercising our brain?
Experts have warned we should turn off the Sat Nav, or namely Google Maps because we don't flex our grey matter enough and it may lead to us not thinking enough. Alzheimers could potentially be an increased risk because Google's Sat Nav is so good it's stopping us think. While that sounds scary, what a compliment. We always say in business, if you want to make money, solve a real problem. Google as usual have smashed it so far out the park you're left speechless when weighing up the facts.
6. Google Maps doesn't use that much mobile data
It doesn't matter if you have the standard 4g coverage or you've moved to the advanced 5g that's rolling out in 2020 and has been for some time now. Google maps uses a very small amount of data as it predominantly relies on GPS tech.